Black Friday Perfume Gift Sets: Find The Perfect Holiday Gift
Black Friday is imminent and that means Christmas is almost upon us. The time is now to scout for Black Friday 2023 fragrance deals, even though the event is still seemingly weeks away. The best kinds of deals are always the ones you are aware of in advance, because it means you can plan your budget and make informed choices, rather than making impulsive buys on the day. In the article below we will provide some Black Friday gift shopping tips, as well as give some examples of our top perfume gift set picks for 2023!


The Perfect Opportunity For Christmas Shopping
The end of the year is a pivotal period for shoppers and retailers alike. Black Friday ushers in the beginning of the festive shopping season, making it a convenient one-stop opportunity to snag some festive gifts. It's a time when discounts are abundant, and deals are just waiting to be discovered, with enough Black Friday special offers to scratch your shopping and holiday gifting itches. Avoid last-minute stress and use the day to kickstart your festive buying, securing high-quality gifts without breaking the bank.


Do Perfumes Make Good Gifts?
Whether or not perfume or cologne will make a good gift depends on the person you are giving it to. That being said, it is one of those gift types that will be well received if you put a good amount of thought into it. Don't just choose something YOU like - rather opt for a scent that reflects the recipient's personality or preferences, making it a tailored and memorable gift. Fragrance can evoke memories, set moods, and even boost confidence. A carefully chosen fragrance goes beyond just a nice smell; it can be a little bottle of remembrance that also makes your loved one feel confident and special.


Some Of Our 2023 Black Friday Favourites
These are our personal favourite gift sets you need to get this Black Friday. They offer great value for money, giving you the opportunity to own or gift rare and usually expensive scents at a reasonable discount while also giving you access to complementary products like fragrant skincare items that usually come at a premium.


Diesel D gift set by Diesel
Leading with top notes of citrus and a heart of lavender and sage, Diesel D offers an aroma that epitomises grit and virility. Grounded by woody base notes, it's a fragrance designed for men who aren't afraid to assert their presence. Ideal for evening wear, its powerful scent profile makes it a compelling choice for those looking to make a statement. This gift set includes a 100ml Eau de Toilette, a 75ml Shower Gel, and a 75ml Moisturiser for a multi-layered fragrance experience.

Bottled gift set by Hugo Boss
Combining crisp apple with warm cinnamon and velvety vanilla, Bottled by Hugo Boss is the epitome of sophistication. Tailored for those who prefer their colognes to be as refined as their attire, it provides a balanced aroma that's perfect for both day and evening wear. The scent's complexity speaks volumes about its wearer, making it perfect for those who favour understated elegance. Included in the gift set are a 50ml Eau de Parfum and a 100ml Shower Gel, enriching the scent journey from shower to social event.
L'Eau d'Issey gift set by Issey Miyake
Opening with a burst of yuzu followed by middle notes of blue lotus and a base of woody musk, L'Eau d'Issey provides a fragrance that's as refreshing as a morning dew. Its light, aquatic character makes it perfect for daytime and casual settings, exuding a crisp cleanliness. The scent is as invigorating as it is balanced, suitable for anyone who prefers subtlety and freshness in their fragrance. This set contains a 125ml Eau de Toilette, a 50ml Shower Gel, and a 50ml After Shave Balm, ensuring the aroma stays with you throughout the day.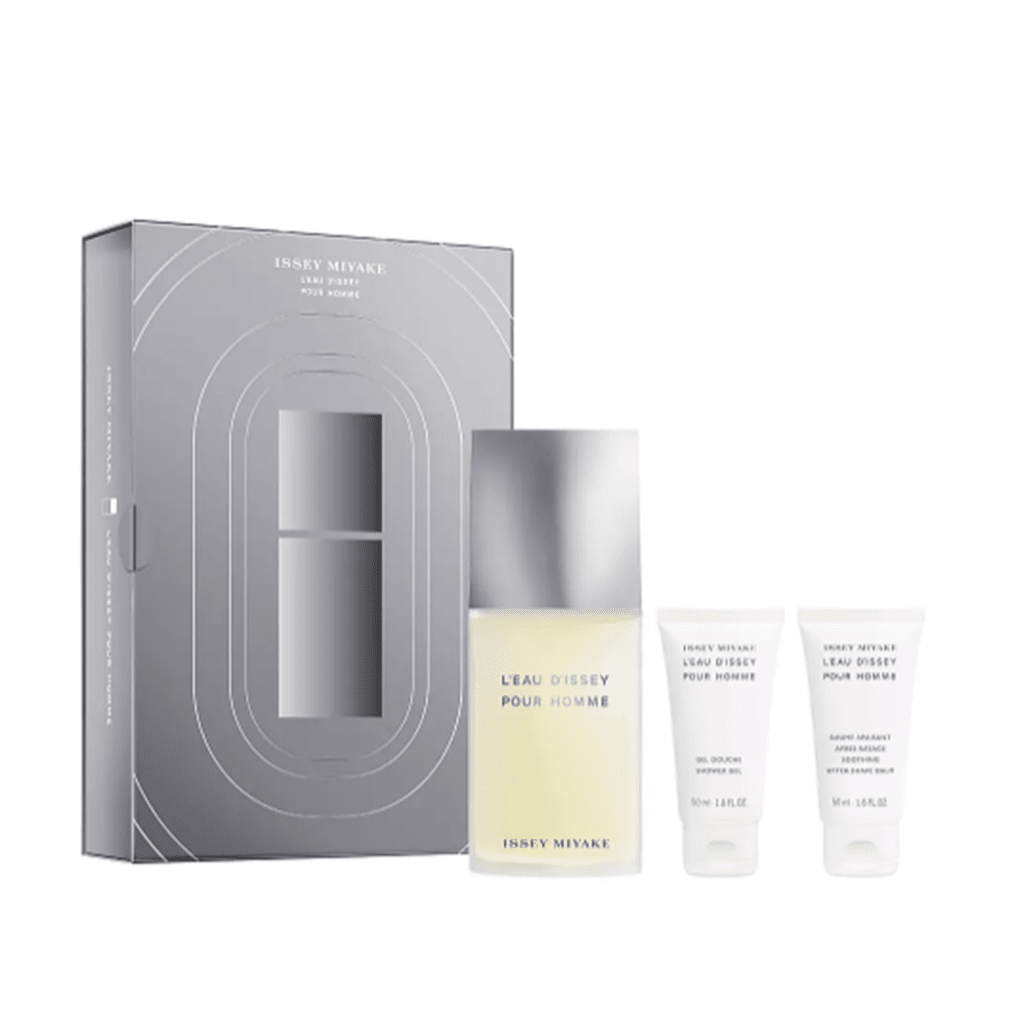 Get Shopping!
Black Friday is literally around the corner. The lead-up to the festive season is short, and the competition for quality products at affordable prices is fierce. This year, Perfume Direct is pulling out all the stops to make sure your festive season kicks off with a fragrant bang. Trust us, these are the kind of Black Friday perfume deals that make even seasoned shoppers do a little dance.
But don't put away that shopping list just yet! We've also got something special brewing for our Christmas perfume and aftershave sale. So, whether you're looking to treat yourself or find the perfect aromatic gift for someone special, you won't want to miss what we have in store. Let's get shopping, shall we?