Spotlight On: Armani Fragrance
Perfume Direct 
Founded in 1975 by Giorgio Armani, the Armani fashion house is one of fashions most recognisable brands. Originally concerned only with fashion, the brand has since branched out in several areas, and their fragrances are some of the most popular available. The first was released in 1981, and its success saw more being released quickly after. There are now more than 30 fragrances to the brands name. these are a few of our current favourites. 
This woody aromatic fragrance for men was released in 2008. This fresh and masculine scent has top notes of bergamot and guaiac wood, which give a strong, fresh opening. The mid notes of Sichuan pepper, vetiver and cedar wood keep it cool while adding a light spiciness to it, while the base of amber and cacao is sweet and mellow, giving it a depth that comes after the opening scent has toned down. 
The bottle is elegant and sleek – a clear oblong with a chrome topper and the contents visible. The classic Emporio Armani logo is stamped in in barely-there print.  
A chypre fruity fragrance, Si was launched in 2013 and is an elegant and sophisticated scent. Top note of cassis gives a fruity, tangy opening, which is followed by mid notes of may rose and freesia, which soften the tang considerably. The base of vanilla, patchouli, woody notes and ambroxan give it complex depth and a scent that settles into something much deeper than opening would let you believe. 
This gem is presented in a beautifully classy clear oblong, with peachy contents on show, with a topper that looks like a polished beach pebble. The brand and logo are printed in slim black, classic font. 
This fresh floral and fruity fragrance is inspired by the Mediterranean Sea and was launched in 2010. Top notes of Amalfi lemon and mint are fresh and tangy, and are tamed by the mid notes of peony, pink pepper and jasmine, which are light, sweet and spicy. The base of Virginia cedar wood, French labdanum and brown sugar gives a beautiful depth to this fragrance and adds a sweet touch to it. 
This bottle is really selling the contents. A beautiful, clear and rounded bottle with the blue-green contents clearly visible and another pebble-like topper, this time in marbled blu-green. 
Released in 2019, In Love with You is a floral fruity fragrance and a real sweet treat. Top notes of blackcurrant, black cherry and raspberry give an extremely fruity opening, which is softened by the rose and jasmine in the mid notes. Laid over a base of patchouli, this fragrance is delicate and exciting – just as the name suggests – and has a great reputation for lasting all day long, too. 
This scent is presented in a beautifully chic, soft-cornered oblong, with a round, chrome topper that has delicate bands woven around it. The brand and logo are printed on in black, with a white shadow on the 'O' of 'you'. 
This floral fruity gourmand fragrance for women was released in 2015 and is a sweet, light and delicate scent. Top notes of raspberry, litchi and passionfruit give the opening a fruity tang, while the mid notes of violet, Bulgarian rosa and lily-of-the-valley soften and mellow this and give that delicate air. The base of praline, vanilla and patchouli adds the sweetness.  
This bottle is stunning. Like its Diamonds siblings, Diamonds Violet comes in a bottle with many facets, to imitate a diamond, in a clear oval, so the faintly violet contents are on display. It has a square, chrome topper and the classic Emporio Armani logo is printed on the front. 
This amber spicy fragrance for men was released in 2004 and won a fragrance of the year award from FiFi in 2006. Top notes of lemon and bergamot are warm and fruity, while the mid notes of star anise, olive blossom and guaiac wood are masculine and deep. The base of leather, tonka bean and tobacco give a very masculine edge and a heavy aroma. 
This bottle is black tinted, round and sleek, with a topper that exactly matches the shade of the bottle. The brand is printed near the base in grey and white.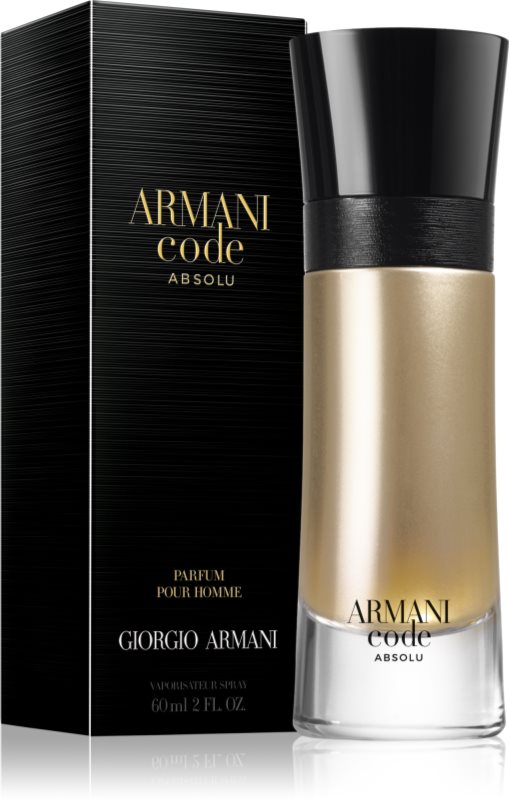 This floral delight was released in 2006 and is a very soft, delicate and feminine scent. Top notes of orange and jasmine are laid over mid notes of orange blossom and ginger, making a sweet and warm fragrance. The base of honey, vanilla and sandalwood keep up the trend and lead to very sweet and floral fragrance. 
The bottle is sleek and stylish, a long, rounded bottle that is slimmer in the middle, and is embellished with prints of flowers on a background that starts deep blue at the top and fades to being clear at the bottom. 
Armani – Acqua di Gio for Men EDT 
Launched in 1996, this is the oldest in this selection and has remained popular throughout the 26 years since. Top notes of lime, lemon, bergamot, jasmine, mandarin orange and neroli give a fruity, tangy scent, but the mid notes of sea notes, jasmine, peach, freesia, hyacinth, cyclamen, rosemary, violet, coriander and rose give an aromatic, aquatic scent. The base of white musk, cedar, oakmoss, patchouli and amber give a freshness which is carried all the way through. 
This bottle is a classic oblong in frosted white glass, with the branding and logo on the front in large lettering. The topper is chunky, round and frosted metallic. 
Many of the items in this list will be familiar names whether you have used them or not – because Armani fragrances are some of the most popular available today. Their industry experience makes every scent a hit, so a tester is always worth a try for one you aren't familiar with. 
All the fragrances here are available through our websites, with some also available as gift sets.