Bath & Body Gift Sets From The Luxury Bathing Company
With Christmas just around the corner, there's no better time than now to start browsing gift sets for your loved ones. At Perfume Direct we have recently stocked bath and body gift sets from The Luxury Bathing Company. Offering a wide range of bath and body products for both men and women. At great low prices, these gift sets are the perfect gift for a friend or family member this year.


What's Included In A Bath And Body Gift Set?
A bath and body gift set is a great gift for anyone. Typically containing a range of mini and full sized bath and body products. They provide a great way to try out a range of new products or a scent in one purchase.
The bath and body gift sets from The Luxury Bathing Company include a selection of gift sets for both men and women, featuring some of their most popular products like the Rose & Peony Body Wash, their Christmas scent - Wild Fig & Cranberry, and their bath fizzers.


Gift Sets To Buy For Christmas
If you're looking for stocking fillers or extra gifts for friends and family this Christmas, a bath and body set from The Luxury Bathing Company is an excellent choice. Below you will find more information about some of their most popular products.


The Luxury Bathing Company Homme Gift Set
Containing a great selection of bath and body products for men the Homme cleansing gift set is the ideal gift for a special man in your life. Whether you need to buy a gift for your partner, brother, dad, or cousin, this gift set contains everything they would need to enjoy a relaxing spa-like experience from the comfort of their own home. Featuring a body wash, muscle soak, bar of cleansing soap, and body polish, this gift set provides the ultimate cleansing experience. With a wonderful combination of scent notes, including peppermint, eucalyptus, black pepper, cedarwood and mandarin, whoever you buy this gift set for will certainly enjoy the benefits of this luxurious bathing set.


Christmas Cosy Toes Gift Set
The ultimate Christmas scent, The Luxury Bathing Company have infused their Christmas gift sets with the wonderful properties of wild fig and cranberry. Transporting you to a cosy evening by the fire on a snowy Christmas Eve. Their Christmas Cosy Toes Gift Set is a brilliant choice for those who love to pamper themselves. Particularly in winter our skin becomes increasingly dry and often our feet fall victim to this most. The cold and wet does no good to our toes, so it's important to keep them well-pampered. This gift set contains a 100ml foot balm and a cute pair of fluffy white socks, perfect for moisturising the feet keeping them feeling supple and soft.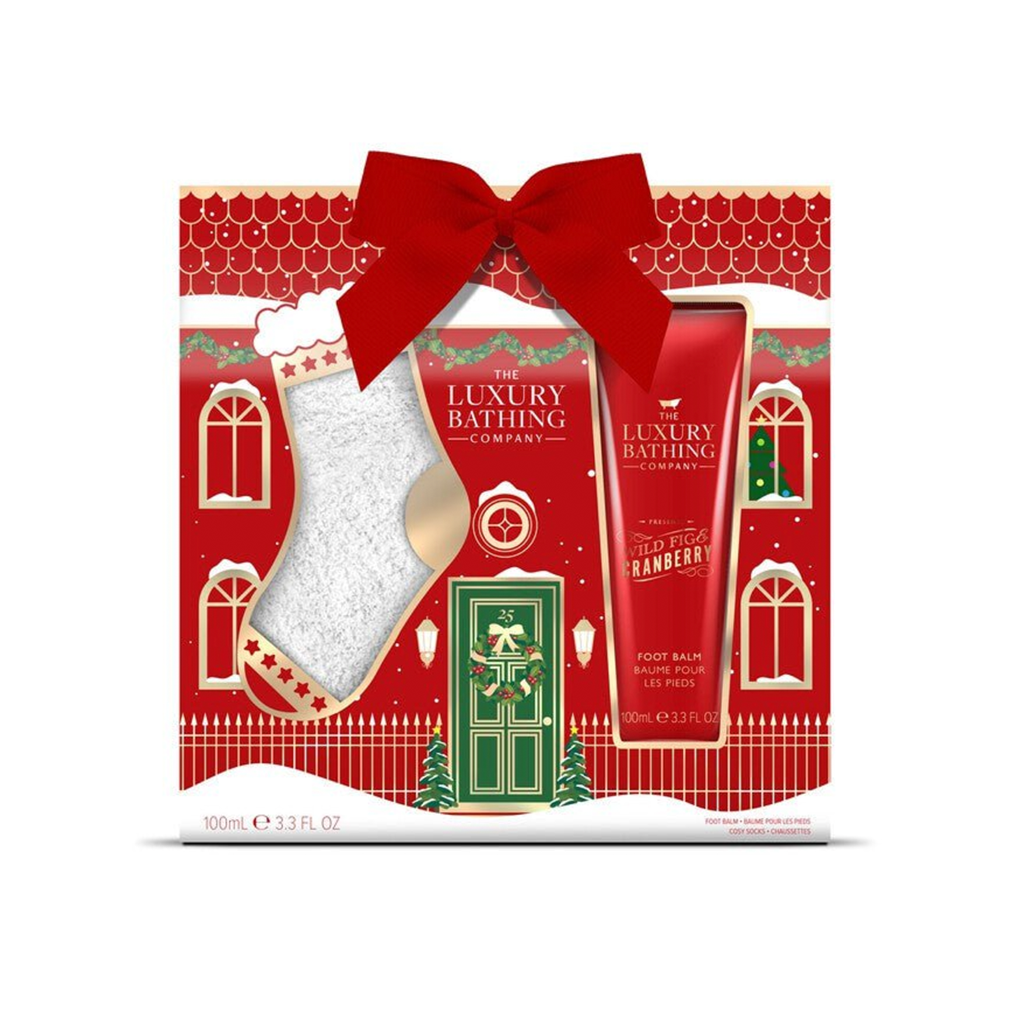 Warm Vanilla Weekend Escape Gift Set
For your friend who loves to travel, the Warm Vanilla Weekend Escape gift set would be a great Christmas gift this year. Combining a great selection of warm vanilla scented bath and body products, including a body wash, body mist, nail cream, body cream, all beautifully packed into a toiletry bag. This gift set would make the perfect travel companion for your friend who enjoys a weekend getaway or is on a world adventure. Containing everything they would need in handy mini sizes, that would also be suitable for going in a cabin bag, this gift set can be taken on trips or kept at home on a vanity table. And, when finished using the products, the toiletry bag can be reused, for storing makeup, toiletries, or handbag essentials.

With these gift sets and many more on sale now, get yours in time for Christmas and save on some amazing
bath and body products
at Perfume Direct.